PERIODS









1999 - 2001






right:
Liberation
2000.02.07
175 x 75, acrylic on canvas








REMAKINGS

1999 - 2001
Vittorio Mazzucconi's paintings,
with the Artist's comments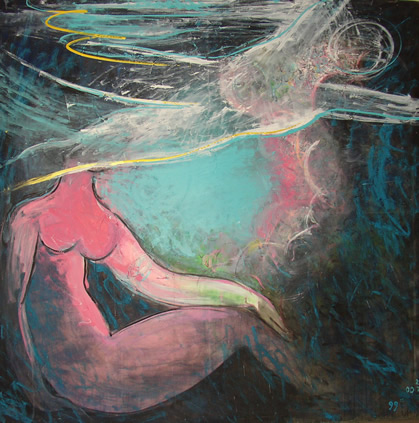 When the sorrow for the separation arrives, one can only cry! The veil is breaking and it seems as if the canvases of the happy years would do the same, in the desperate impulse to destroy themselves in order to express the catastrophe and the truth, finally naked, that cries with all its forces.
One has to say that the paintings of 1993-1996 were reflecting the condition of a happy love and the vitality that was flowing from it. The largest canvases often were the work of a few hours and were thus done straight off, almost as a surplus of energy regard to the substantial commitment of the soul in love. When this urge has been stopped and love turned into despair and sometimes hate, the works of happiness seemed somewhat superficial and almost naïf. The new feelings arm the pencil in order to assail and violating the old paintings, in the urge of expressing the new truth.
Thus almost all the large paintings of the previous period have been remade. One has to say that their quality has gained a lot, in terms of intensity, dramatic force and truth.