EXHIBIT 1996-1998
The women and the soul
Index of the works:
GENERAL CATALOGUE
The women and the soul

Works by Vittorio Mazzucconi
from the Foundation's collection
February 3 - March 30, 1999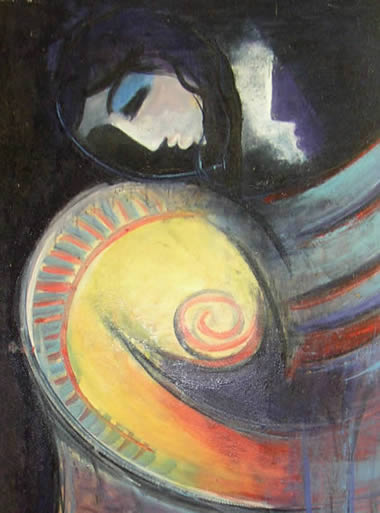 Metamorphosis (detail), 1989
The constant presence of the soul in the artist's inspiration is made concrete, in a certain sense personified, alive and freely, in the woman. The woman is for Mazzucconi much more than the model that the painters copied or rather were used to copy in their paintings: she is the form that the soul assumes, as he loves this woman. A relationship that is, for example, very evident in Creation of Eve, in which one feels that creating is synonymous with love.
A love that begins with eros in the original state, similar to fire, and then purified through so many painful trials, to sublimation. A love that leads to procreation, but this is not the only way in which femininity is maternal: it is also in the sense of accompanying and stimulating the process of spiritual fulfillment, such as the new birth with which God is born in us. It is our soul that is feminine and gives it birth.