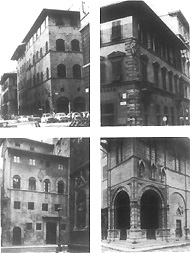 Some of the houses to be moved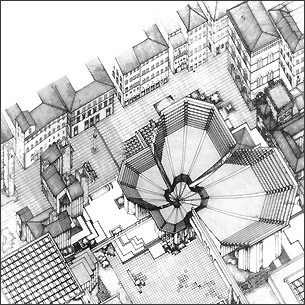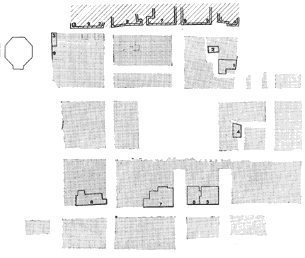 Plan of the centre with the indications of houses to be moved

Some ancient houses had been incorporated in the nineteenth-century blocks; sometimes, just the facade, shifted or shortened to enable the respect of the town-planning scheme of the time. In the new project, theses facades are destined to be rebuilt along Via Calzaioli, in substitution of a line of nineteenth-century facades devoid of interest. Thus a splendid urban face would come to life, to act as the background canvas for the magnificent area of the Dawning City.

Azonometric view of the Flower and the Surrounding Area

The Via Calzaioli is absorbed by the Esplanade, a vast space that stretches from the Duomo Square, right up to OrsanMichele, that unites the two parallel roads: Via Calzaioli and Via Roma. In the axonometry, one can observe the relationship between this space and the new urban front, formed by the shifted facades. The Village is also visible: it is a group of small buildings and towers which act as a filter between the Duomo Square and the Esplanade. The centre of the great composition is the Flower. Below is the Forum and, to the left, the roofing of the large assembly-room in the City Hall.