View of the City Hall and the Duomo
°above: The Fish-market Square, in the 800's
°below: The Republic Square, today

L itograph also on sale in our Bookshop click to see three details of the perspective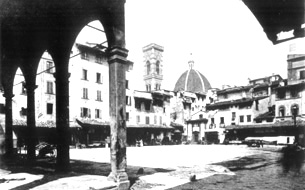 The Santa Maria del Fiore's Dome and Giotto's Bell- tower have already change two scenarios. Today, they might receive a third one, which would certainly value them more. The broken-up perspective of one of the sectors, that's to say the petals of the Flower shows the effective assonance between the Dome and the Flower, for they are really the same thing, in two different moments: that of the bud of Florence's identity, very much closed and self-referred, and the subsequent one, in which the bud opens, welcoming the light and the whole world. Likewise, Florence can donate itself ! In the drawing, you can also see the and the City Hall: a word that opposes itself to the Italian Signoria (Lordship) Palace. The new centre of power (Mazzucconi, in his book "The Dawning City", claims that students should exercise their power in the city's running), with a demo- cratic base and an international participation should be, therefore, more a hall, a meeting place, than a palace.