View of the Forum and the Temple
°above: Reconstruction of Florence's Forum at Imperial time (Corinti)
click to see three details of the perspective

° belowe: The Republic Square (present state
litograph also on sale in our Bookshop.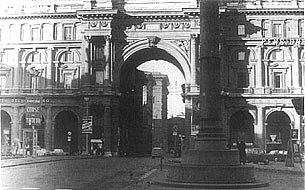 We can barely catch a glimpse of the Strozzi Palace through the arch of the present square and yet, in theproject, not only will the view of the Palace be devoid of obstacles, but - as if by magic - the Temple will appear (by means of graphics on the glass facade of the endmost building).
Yet the presence of the Temple shall be suggested especially by the crown of Cypress trees, which will be planted around the podium. The ancient propilylaeums which make the centrality of the Temple more solemn, are remembered by the small Triumphal Arch on the left while, on the right, some fragments of them are incorpo-rated in the facade of one of the Nuovi Uffizi buildings. Thus, from the archaeological remains of the Roman city one gradually goes up to the marbles and crystals of contemporary architecture. By means of shapes and their reflexes on the glassed surfaces, there also appears something which evocates the Fortress of Totila which, in days of old, was situated on the Temple' site.