above: Perspective of the Esplanade
below: a detail of OrsanMichele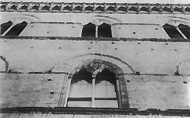 View of the Esplanade
Even in the Esplanade we can refer to the ideal Renaissance square, but with a much more complexe dynamic. The great Flower is showing to us one of its side's terse and sloping marble surfaces, similar to the Baptistery's roofing (try and imagine to turn it upside down and you will be astonished by the resemblance with the sloping walls of the Flower). The dedication of t this building to Florence's identity, bears with it a series of symbolical connections. If every petal corresponds to one of the city's civil seasons, than from one to the other there is an evolution, which is also a fracture, a sudden leap in a new dimension.. The effect of the glassed surfaces, that sur- rund the building's perimeter, is an animation of faint forms. Even in these there is to be found the sequential narration of the city's history:: the Romanesque period (to the right) and the Gothic one (to the left) while, on other sides of the Flower, we will find a reference to the Roman period and the Renaissance.