above to the right: Canal Zone (actual state)
above: Perspective of the new layout
Below: Project plan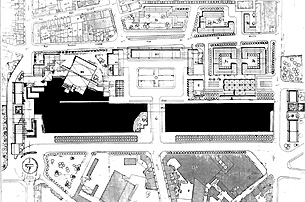 Urban Plan

Nancy is a city which received its seal of nobility and beauty from King Stanislao of Poland. While it was originally divided into two distinct entities, the King linked them together to form one city, creating a magnificent center of great merit - in terms of its architecture and urban planning - within the interstitial space separating the two parts. Near this center is the opening of a basin connected to the Meurthe, originally conceived as a recreational area, but degraded with time into an empty and abandoned part of the city between the center and suburbs. The scope of the new Stanislas-Meurthe project to which Mazzucconi applied in 1978, first under the Ministery of Culture and then as a participant in a competition, was to reunite these two parts of the city in a similar fashion to that of Stanislao, conferring to the Canal Zone a functionality and architectural dignity. This project, which in various ways redesigns and revitalizes the area, entails certain prominent architectural features.