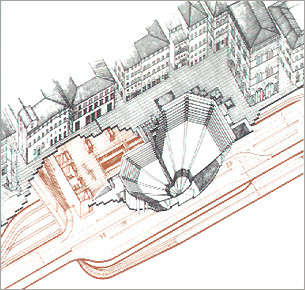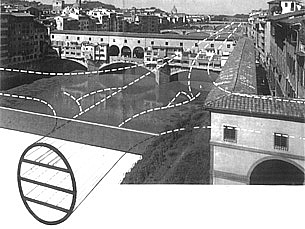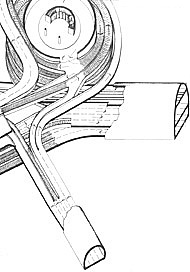 left
top:
broken-up assonometry
bottom:
the tunnel under the Arno River
right:
the underground junction of the Tourist Centre

Although the Dawning City is an idea fervidly orientated towards an interior truth, and an accomplishment of beauty (to an extent that it may be looked upon as utopia), the project has taken into consideration all of the city's problems in a very rational manner. Its solutions are technologically elaborate and complex.
Among the problems faced, the one dealing with traffic was determinant. In order to remove it completely from the city centre, not only does the project provide road structures outside of it, but also a solution for the centre itself, which involves:
A tunnel in Arno's river-bed, divided in four sections: two for highways (in the two directions), one for the Subway, with a major outlet in the proximity of the Ponte Vecchio, and the forth one for plants and pipes. The tunnel may also act as a means of reducing overflow in case of flood.
An interchange station beneath the Esplanade, that in-cludes: a Subway station, a bus and taxi terminal, a loading-unloading terminal for goods, car park, parking area for coaches and a Tourist Centre.
Underground viability
Since the Ist basement level of this arrangement (which includes various stories) coincides with the archaeological area, the project was inspired by it, coming up with some interesting solutions: for instance, the access Hall to the Subway and other services, is opened on the Roman Forum , while the areas of the ancient gates, to North (Porta ad Aquilonem) and to South (beside the Tourist Center) will receive a nice landscape.arrangement.