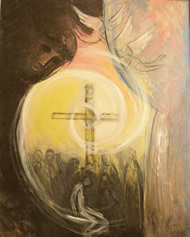 Deposition
1994.01.20
70 x 100, acrylic on canvas






See also:
The Death of our Lord 1979
Crucifixion 1979
Crucifixion 1991
Resurrection 1994
The deposition scene, in which a a group of people surrounds the body of Christ, beneath the cross. Yet a large spiral commences from the cross and ends up involving everything, or perhaps it is heading for the holy body, for the sacrifice, like a thunderbolt. Above, in the sky, one can see the face of Christ, as He contemplates the scene. It is an authentic scene: there is even a curtain, graciously kept open by angels, just like in a theatre. A sacred representation in which all is present: the sacrifice and the fact that it is just an illusion, just like Man's existence is… and yet it is quenched with sense, with life, with pain.