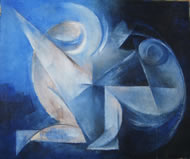 The spiritual Work
1977
oil on canvas


On the left an angel, on the right a dragon-man, a shell, with a face of darkness. With a gesture that is a ray of light, the angel operates on his steel companion, he illuminates him, he frees him from the chains which binds him.
The event is embroidered around a sign of a cross, just like in the project for the Dawning City.
Similarly, the more attractive and spiritual part of our being must act upon the more closed and harsher one.