Facade on the Kifissias Avenue









First study
The original project had an articulated volume while, further one, it had to be simplified on the client's request.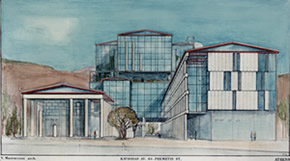 The theme of the classical city lives side by side with modernity in the Polis Centre, in a stylistic similarity to what occurred in the other Athens projects of Mazzucconi. The best commercial exploitation of the area have imposed an eight-storey height to the structure, whereas the height of the classical buildings which the architect had conceived for his ideal city should have been lower (three or four): buildings and fragments which have sometimes become actual constructions and other times have simply been hinted at by graphical means, by reflections or unstructured allusions. These means are there only to suggest the sense, the silhouette of another city, a poetical city, in comparison to the city of ordinary reality. Mazzucconi has proved, in all his projects, his capacity of dealing with this equilibrium in a professional manner devoid of mistakes. This, alas, may not be said for this project. The Developer ended up making its realisation something independent of its architectural goals, but merely commercial. Inevitably, the project's quality were seriously undermined. Mazzucconi always works on the realationship between poetry and reality, in which poetry manages to welcome, understand thoroughly - even in its darkest parts - and transform reality, but in this project, unfortunately, one can say that the reality of business ends up extinguishing the poetry.