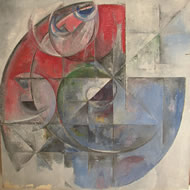 Birth
1976
oil on canvas
There is one moment in which we are born, in which our existence's
spiral commences; in the world of
water, in that of earth, in that of air in which we are asked to live, and then up, and up again towards the world of the stars. There the Moon looks down on us in her mysterious way, the Sun smiles at us while the stars trace the geometries f the Universe.... It is from here that the cosmic force descends and concentrates its strength along the same spiral and up to the exact point in which we are conceived.