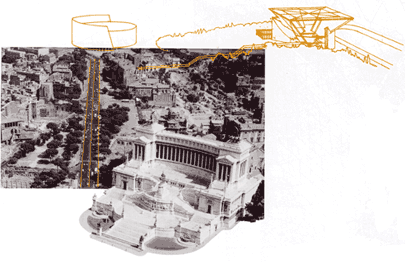 Therefore, we can say that from history to city planning, from the ground of the mythical foundation to the sky, all concurs to the birth of a great, authentic symbol, a universal one as it is in the very spirit of Rome.
It also has a religious significance, which arises from our soul, through an interpretation of the destiny of such a city, and finally urges to generate a contemporary expression.

A synthesis
An overall look at the city, from above, shows that the two major monuments of the area, the Coliseum and the Vittoriano, are now implemented with a third element, the Pyramid, therefore forming a magic tern which, in a certain way, resumes the political history of Rome, from its imperial past to the unity of Italy, till the vision of a possible new future.
The Vittoriano, incidentally, is in our opinion the only modern building to express continuity with the spirit of ancient Rome, although its style has been much criticized.
It enters as a protagonist in the splendid layout of the Via dei Fori Imperiali, which connects the Vittoriano with the Coliseum, a decisive axis for modern Rome, which is in fact the hypotenuse of the triangle we have delineated.
The Pyramid impact is up to this synthesis, completing the planning of the area and the profound message, which its monuments communicate.
But there is also another kind of tracing, in the sky and not on the ground, or at least we are allowed to dream about it. Is it only by hazard that the hypotenuse inclination of our virtual triangle is equal to the one of the Pyramid sides? After all, secret signs of a heavenly vocation are often associated with pyramids, as in the Keop's one, besides being present in the birds flight at the dawn of Rome as well as in other portents of its history.