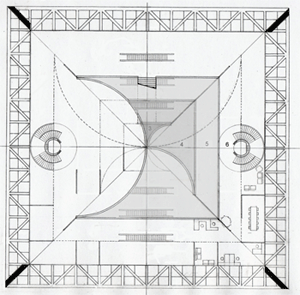 1.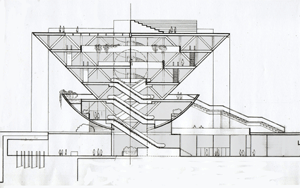 2.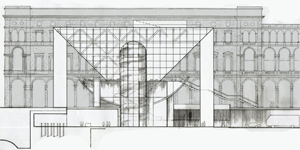 3.

1. 6th FLOOR PLAN
The Ark floors open on a central space with interior balconies, each with three straight sides and a half-circular one. The curved sides are staggered at every floor in order to create a spiral movement with half-circles of increasing size, until reaching the open-air theatre on the building top, in front of the Cathedral façade.
The whole is very much like a flower and expresses an interior path which, from the lower point, rises to the higher one, thus pointing to the East as a spiritual goal.

2. SECTION
There are two ways of accessing the Ark: from the present square and from the little plaza below. The "vessel", beside its function as Ark hall, has a plastic value as a sculpture, and moreover a deeper meaning: an Ark of salvation, or the nacelle of history from whose wreck raises the reversed pyramid, as a gesture of opening and spiritual development.

3. SOUTH FLANK
The Ark project, whose idea of a reversed pyramid is originated from the Cathedral facade, is also carefully tuned to the proportions of the Mengoni's buildings.